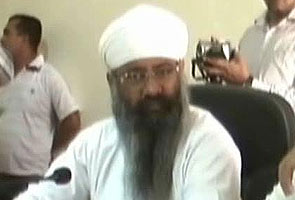 New Delhi:
Sukhdev Singh Namdhari, a key witness in the November 17 shootout that killed liquor baron Ponty Chadha and his brother Hardeep, was detained by the Delhi Police in Uttarakhand today. He is being brought to the Capital.
Investigators questioned Mr Namdhari at his farmhouse in Bajpur, Uttarakhand before the detention. Raids were conducted through Thursday night at several of his establishments in the state in the hunt for his associates.
The role of the former Uttarakhand Minorities Commission chairman has become one of the key angles in the investigation. Mr Namdhari was accompanying Mr Chadha at the Chattarpur farmhouse in south Delhi when the tycoon was shot, allegedly by brother Hardeep. Hardeep died in retaliatory fire by Mr Namdhari's personal security officer.
Mr Namdhari is likely to be questioned on the sequence of events in the shootout. Among the charges he could face is trespassing at the disputed farmhouse from where Mr Chadha was allegedly trying to evict his brother.
Sources have pointed to inconsistencies in Mr Namdhari's police statement. While he had claimed that two shots were fired at him by Hardeep during the shootout, no bullets were found near his car seat.
Mr Namdhari, who was removed from his minorities commission post after the shootout, has 26 cases against him in Uttarakhand between 1993 and 2009. Eight of them are murder cases. Fourteen of the 26 cases are in Bajpur alone. Mr Namdhari is alleged to have often threatened people - the police got requests in 2001, 2003 and 2009 to cancel his firearm licence.