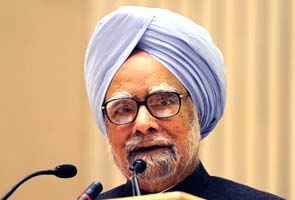 On Board PM's Aircraft: Prime Minister Manohan Singh today said he has still not given up "hope" on key ally Trinamool Congress supporting the candidature of UPA's Presidential nominee Pranab Mukherjee and expressed confidence that the Finance Minister will be elected unanimously with the support of opposition NDA also.

"Trinamool is still part of UPA and I have still not given up hope that Trinamool Congress will also find its way to support the candidature of Pranab Mukherjee," Dr Singh told reporters when asked whether he would request Ms Banerjee to reconsider her decision on the issue of supporting Mr Mukherjee's candidature. Presidential polls are due to be held on July 22.

The West Bengal Chief Minister, who is also the Trinamool supremo, has been resisting calls so far to change her party' stand and back the Congress stalwart from West Bengal.

Dr Singh said after the nomination of Mr Mukherjee was announced, he had spoken to BJP leaders L K Advani, Sushma Swaraj and Arun Jailtey requesting them to work with the government and the ruling coalition to ensure that Mr Mukherjee's election in next month's Presidential polls takes place unanimously.

The BJP is supporting former Lok Sabha Speaker P A Sangma but has formally split with its allies Shiv Sena and JD(U) on the Presidential poll issue.
Story first published:
June 23, 2012 23:54 IST