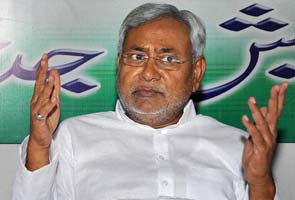 Patna/New Delhi: The relationship between Nitish Kumar and his ally, the BJP, hasn't exactly been a bed of roses lately. A new thorn that could hurt the BJP is the predisposition of the Chief Minister to support Hamid Ansari for Vice-President.

Mr Kumar reportedly feels that if the BJP decides to back a different candidate, his Janata Dal (United) will not be on board. Mr Kumar and the BJP are already on opposing sides for the President of India. The Chief Minister has decided controversially to back Pranab Mukherjee, the former Finance Minister who is the candidate of the ruling UPA. The BJP is backing former speaker PA Sangma. Though the odds are loaded heavily in favour of Mr Mukherjee, the BJP wanted to put up a fight with its own candidate to prove that it is not an impotent opposition. It tried to convince Mr Kumar to join its effort, but his party said it was obliged to back the better man, in its opinion.

The PM has already called CPM leader Prakash Karat and today he called CPI's Bardhan and Sudhakar Reddy in an attempt to build support for Mr Ansari.

The Bihar Chief Minister has not yet been consulted by the PM. But his kinship with Mr Ansari is well-known. The Chief Minister, however, wants to take some time to make a formal commitment - he's worried about appearing as a pathological party-pooper for the BJP-led coalition, the NDA, which he belongs to.

For a while, Mr Ansari was running neck-to-neck with Mr Mukherjee as the Congress party's contender for President. When the BJP's Sushma Swaraj said she would not support Mr Ansari because he lacked the stature required for Rashtrapati Bhawan's main resident, Mr Kumar bristled. He made it clear that his party did not echo the views of its partner.

Mr Kumar came to power in Bihar heavily supported by the state's 15% Muslim population. That votebank will be pleased with his support for Mr Ansari.

In April this year, when Mr Ansari was the chief guest at an official function in Patna, he turned down a lunch invitation from the Governor to eat with the Chief Minister. The gesture was interpreted by some as a breach of protocol, but one that established the close bond between the two leaders.

Story first published:
July 11, 2012 18:30 IST