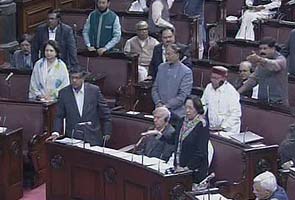 New Delhi:
Samajwadi Party today forced adjournment of the Rajya Sabha for half an hour demanding reservation for Muslims in education and government jobs.
When the House met for the day, Samajwadi Party member Ram Gopal Yadav said he has given a notice for suspension of Question Hour to take up the issue.
He said the condition of Muslims was worse than Dalits and that there should be a Constitutional amendment to provide for reservation to Muslims.
Mulayam Singh Yadav's party members rushed into the well of the House. Standing near the podium, they raised slogans demanding implementation of the Sachar Committee report.
The Rajinder Sachar Committee, appointed in 2005 by Prime Minister Manmohan Singh, was commissioned to prepare a report on the latest social, economic and educational condition of the Muslim community of India. It had concluded that the status of Indian Muslims is below the conditions of Scheduled Castes and Scheduled Tribes.
Chairman of the Rajya Sabha Hamid Ansari had to adjourn the House for 30 minutes as unrelenting SP members continued their protest.