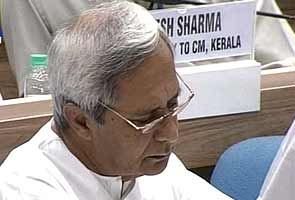 Bhubaneswar: Odisha Chief Minister Naveen Patnaik today sought to send out a strong message that he will brook no dissent by sacking two ministers and suspending two party MLAs and Rajya Sabha member Pyarimohan Mohapatra.

Mr Patnaik said he had sent a letter to the state Governor recommending the dismissal of Cabinet ministers Anjali Behera and Sanjiv Sahu. The two MLAs he has suspended are Prabhat Biswal and Bibhuti Balbantray. Pyarimohan Mohapatra, till recently a close confidant of the chief minister, was seen as plotting a political coup against Mr Patnaik earlier this week while the latter was away in London on an eight-day official trip.

Amid much speculation that a dissident group of MLAs in the ruling Biju Janata Dal, led by Mr Mohapatra, was set to topple the Patnaik government, about 25 MLAs, including four ministers, met Mr Mohapatra at his residence on Tuesday. The dissident Rajya Sabha MP, who called the shots both in the party and in the government for long, fell out with Naveen Patnaik recently reportedly over his growing clout.

There were rumours that the dissidents had managed to get the support of 80 MLAs, including 60 of BJD's 109 MLAs, 17 Congressmen and three Nationalist Congress Party (NCP) MLAs. In quick damage-control, Mr Patnaik's loyalists asked all the party MLAs present in Bhubaneswar to reach Naveen Niwas, the residence of the chief minister. Among those who gathered there were some MLAs who had attended the meeting at Mr Mohapatra's residence too.

In London, Mr Patnaik said, "I understand that in my absence, an MP of my party is stirring trouble against my state government and also trying to divide the Biju Janata Dal (BJD). This is deplorable.". His aides like Lok Sabha MP Jay Panda strongly asserted that there was no threat to the Odisha government or Naveen Patnaik and Mr Mohapatra soon himself sought to dismiss reports that he was trying to dislodge the Naveen Patnaik government and split the party. He said Mr Patnaik was his leader, but also handed a veiled threat that the CM was safe as long as he addressed grievances of party workers and removed "evil elements" in the party.

The crisis had blown over and Mr Patnaik, a popular leader in his state, returned to a rousing welcome home last night. Since then his loyalists have reportedly mounted pressure on him to take action against the dissidents.

Naveen Patnaik and Pyarimohan Mohapatra were very close and the CM was known to depend heavily on Mr Mohapatra in all matters relating to the party and the government. The relationship went downhill early this year when Mr Patnaik and his band of loyalists reportedly began to resent Mr Mohapatra's style of operating. Mr Patnaik is said to not consulted him in recent months when he took major decisions like his stand on the National Counter Terrorism Centre (NCTC), striking an alliance with Tamil Nadu Chief Minister J Jayalalithaa and even projecting PA Sangma as a Presidential candidate.

That reportedly didn't go down well with Mr Mohapatra, said to be used to being referred to as the de facto chief minister and the second power centre. The former IAS officer, who was also close to Mr Patnaik's father, Biju Patnaik, was reportedly egged on by his followers in the party to plan a coup. Sources say he is likely to fight back and retaliate after today' disciplinary action. With the kind of access he has, sources say, he could cause much trouble for Mr Patnaik.

Mr Patnaik joined politics after his father Biju Patnaik's death in 1997 and since then he has been the unchallenged leader both in his party the Biju Janata Dal and in the state that he has ruled for the last 12 years. He has turned out be the biggest vote catcher in the state and has won all the elections with overwhelming majority. His "clean image", his drive against corruption and a number of populist programmes like the Rs 2 per kilogram rice for the poor have worked wonders for his party and the government.

Story first published:
June 01, 2012 18:48 IST