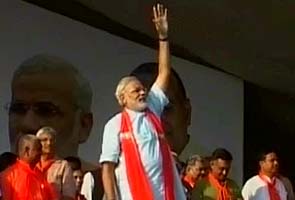 New Delhi:
Gujarat Chief Minister Narendra Modi is likely to head the Bharatiya Janata Party's (BJP) campaign committee for the 2014 Lok Sabha elections. NDTV has learnt that Mr Modi has the backing of the Rashtriya Swayamsevak Singh or RSS for the crucial role in what is expected to be a bitterly fought election.
Sources said while the RSS, in which Mr Modi cut his political teeth, is preparing to make him the face of the BJP in the 2014 elections, he may not quit as Gujarat chief minister.
Mr Modi will shift to Delhi only if the BJP-led National Democratic Alliance or NDA gets the numbers to form a government.
A formal announcement on Mr Modi is likely in February, when the BJP will also go public about a second term for Nitin Gadkari as party chief.
Having won a third successive term in Gujarat last month, Mr Modi is one of the BJP's most successful leaders. Given his popularity, his shift to the political centrestage in Delhi has been long anticipated.
Mr Modi's supporters and many of the BJP's top ranking leaders have billed him as a future prime minister, but he faces strong opposition from a crucial NDA ally, the Janata Dal-United that flags the 2002 Gujarat riots against him.