Lucknow:
The Samajwadi Party has disowned Shahid Siddiqui, the MP from Lucknow who recently interviewed Gujarat Chief Minister Narendra Modi for an Urdu newspaper.
"The Samajwadi Party wants to make it clear that Shahid Siddiqui has left the party long time back. The party doesn't have any relations with him. It is wrong that he is using the name of Samajwadi Party. The media also considers him a part of Samajwadi Party, which is wrong," SP leader Ram Gopal Yadav said today. Mr Yadav also ruled out any inquiry against Mr Siddiqui. "When someone is not part of the party, why should there be an enquiry?" he said.
In his interview to Mr Siddiqui, the Gujarat Chief Minister had said that he should be hanged if he is found guilty of orchestrating the 2002 Gujarat riots. The remarks were perceived to be tailor made for the Muslim readership.
The Samajwadi Party fiercely guards its pro-Muslim identity. So an allergic reaction to even a remote and insignificant connection to Hindutva mascot Narendra Modi was expected.
Senior Samajwadi Party leader Azam Khan conveyed the message without mincing words - "In politics, neither friendship nor enmity is permanent. But we cannot maintain friendship with someone like Narendra Modi. Narendra Modi is an enemy of humanity. I feel this is wrong. It is not right for a person like Narendra Modi to have been given an opportunity to give his opinion to a major Urdu daily," he said.
A day after Mr Siddiqui interviewed Mr Modi for his newspaper Nai Duniya, Ram Gopal Yadav cracked the whip and gave sweeping orders that only he, party chief Mulayam Singh Yadav, Chief Minister Akhilesh Yadav and the state party spokesperson Rajendra Chaudhary could make TV appearances for the party.
Till a day before this order, Mr Siddiqui often represented the SP on various news channels. Sources say after quitting the BSP, Mr Siddiqui returned to the Samajwadi Party fold but did not formally acquire its membership on paper.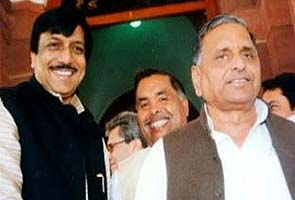 While the SP maintains that Mr Siddiqui never joined the party again, pictures show he did so on January 8 this year. NDTV has video footage that clearly shows Mr Siddiqui at a function organised to welcome new leaders. SP Chief Mulayam Singh Yadav, Akhilesh Yadav, Azam Khan and Ram Gopal Yadav were all present at this event, where Mr Siddiqui even read out a note of thanks.
"I want to thank neta ji (Mulayam Singh Yadav) ...I am joining the party to raise voice against the atrocities happening in the state for the last five years. I hope under the leadership of neta ji and Akhilesh ji, SP should soon come to power in Uttar Pradesh. We will all work hard for this," he had said, after Azam Khan welcomed him.
Slamming the SP's move, Mr Modi's party termed it "dirty politics". "Being a journalist, it's not necessary to only publish the views of those you agree with. It's not necessary that his paper only publish news related to Mulayam Singh Yadav. As the editor, he has the right to interview whoever he wants. It's an old habit of SP's to do things for fear of the vote. How can you demand clarifications on the Gujarat riots and refuse to listen when answers are provided?" BJP spokesperson Shahnawaz Hussain said.
Hi party colleague and BJP leader from Gujarat, Yatin Oza echoed the same sentiment, "For the first time someone asked Narendra Modi what he thought about the riots in Gujarat. For this, removing a senior member of the party is very cheap and is opening the doors to utterly dirty politics. This is like an autocratic way of functioning."