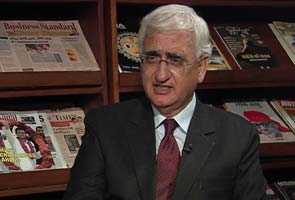 New Delhi:
The confirmation that Italian marines charged with the murder of two fishermen were coming back to India to face trial came on Thursday. Revealing this in a sit down interview Foreign Minister Salman Khurshid said they all the while they were working on the United Nations Human Rights Council (UNHRC) resolution, they were also aggressively pushing the Italian side and signs of change in the mindset became evident early in the week.
Refusing to call it 'pressure tactics', Mr Khurshid credited it to work of the diplomatic team but said he didn't really have any sleepless nights as they believed in the diplomatic process.
When asked about the role of Congress President Sonia Gandhi, who had sent a strong message to Italy in her address to MPs, Mr Khurshid said she and the Prime Minister provided direction and leadership in the process. "BJP hinting at (suggestions of an Italian job) was distasteful," he said.
When NDTV asked him whether the Italians will be given parole again, Mr Khurshid evaded a direct answer but said it would be wrong to suggest that the consideration was on a clean slate.