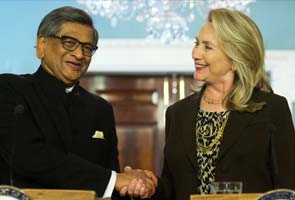 Washington: India has requested the US to provide it access to the 26/11 Mumbai terror attacks accused David Coleman Headley and Tahawwur Hussain Rana. On Wednesday, India raised the issue with the US when External Affairs Minster S M Krishna met US Secretary of State Hillary Clinton in Washington for the third round of strategic India-US dialogue.

Both Headley and Rana are currently in the custody of US authorities. Headley is accused of conducting recce of 26/11 targets for the Lashkar-e-Toiba, which carried out the attacks in Mumbai on November 26, 2008. However, Rana was acquitted of federal charges that he aided the terrorists who carried out the attacks.

At a joint press conference with Mrs Clinton, Mr Krishna told reporters, "India's interest in further access to Headley and Rana, in accordance with our legal procedures, for the investigations into the Mumbai terror attack of November 2008, was raised."

In response, Mrs Clinton said the two countries are sharing information related to terrorism and other related issues.

"With respect to information-sharing it is our policy and practice to share information, and we do that. I'm not going to go into details because we think our cooperation on intelligence-sharing, on homeland security issues, on counter-terrorism has gotten to a new level," she said.

"It is very important to both of our countries. But it's also important that, you know, we support the work that is done by our professionals and our experts in protecting both of our countries, and I think we are satisfied that that is occurring," Mrs Clinton said.

At least 166 people were killed in the attacks. This included many foreign nationals.
Story first published:
June 14, 2012 07:36 IST