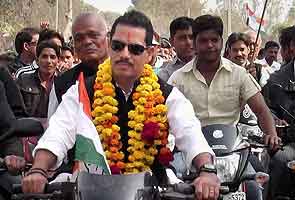 New Delhi:
There seems to be a change in the government strategy in dealing with Arvind Kejriwal's allegations against Robert Vadra, the son-in-law of Congress president Sonia Gandhi, who is now the epicentre of an escalating political controversy.
Mr Kejriwal's attack on Mr Vadra was discussed this week by a group of ministers who often deal with the media. Their assessment is that ministers shouldn't be dragged into the war of words daily by responding to the activist-turned-politician Mr Kejriwal, who launched his own political party last week.
The controversy is about two private entities, and since no criminality has been established so far, the government does not need to get involved with any defense. However, Congress spokespersons will continue to comment on the issue because Mr Kejriwal has cast aspersions on the party's role, asking for example if black money from the Congress may have been channelled into Mr Vadra's real estate businesses.
Mr Kejriwal alleges that real estate giant DLF gave Mr Vadra interest-free loans and under-priced apartments in Gurgaon; he says that in return, the Congress government in Haryana violated guidelines to grant land to DLF for massive commercial projects.
(Read: Vadra, DLF Haryana govt fooling India, says Kejriwal)
Both Mr Vadra and DLF have refuted the accusations.
Mr Kejriwal has been questioning why senior ministers like P Chidambaram have defended Mr Vadra repeatedly and emphatically. On Monday, Mr Chidambram said, "Transactions between two private individuals cannot be questioned on the basis of some imputed or implied act of corruption."
(Watch)
Yesterday, corporate Affairs Minister Veerappa Moily said no inquiry would be made on the basis of "wayside allegations." Law Minister Salman Khurshid said that a lesson would be taught to Mr Kejriwal and the co-founder of his party, Prashant Bhushan, who the minister described as "political upstarts."
(Watch: Khurshid-Bhushan face-off )
Mr Kejriwal went public with his first set of allegations against Mr Vadra last week. Initially, the Congress was silent. Then, ministers suddenly started denouncing Mr Kejriwal's charges. Sources in the party say initially they decided Congress leaders must act against an attempt to sensationalise his real estate deals.
Yesterday, Mr Kejriwal provided a new installment of details that he said establishes "a malafide nexus" between DLF and the Haryana government, with Mr Vadra as their common ground. But instead of senior ministers, it was the turn of Harayana government and DLF to refute these allegations point by point on Tuesday. And that seems to be the new strategy.