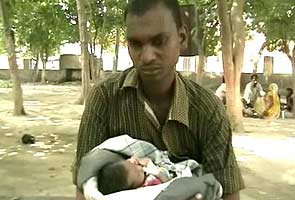 Bharatpur: Many people have written in asking how they can help this father, a rickshaw puller who goes to earn his daily wage with his small newborn daughter strapped to his chest on the streets of Bharatpur in Rajasthan.

A month ago, rickshaw puller Babloo's wife died after childbirth due to anaemia. It left Babloo all alone with a small infant to take care for. He takes her to work every day and being out in the open has taken its toll on the infant. The little baby is ill and has been in a government hospital in Bharatpur.

HOW YOU CAN HELP

If you would like to make a donation to help Babloo, here are the details of his bank account:

A/C no 61169794778
Account holder's name: Mr Babloo, S/O Jeevan Lal
Bank name: State Bank of Bikaner and Jaipur
Branch: Bharatpur, Collectorate (10557)
IFSC: SBBJ0010557
Phone no: 05644225071

Some surfers trying to transfer money through ICICI are getting an error saying the account number needs to be 12 digits. This is because they are selecting to pay to another ICICI account.

They need to select Option 3: Non ICICI Bank Account using NEFT/RTGS across India


Note: This information has been provided / published on a good faith basis, without any commercial motive. NDTV does not vouch for the authenticity of the claims made by the intending done, nor can we guarantee that the donations made by a donor will be used for the purpose as stated by the intending donee. You are requested to independently verify the contact information and other details before making a donation. NDTV and/or its employees will not be responsible for the same.
Story first published:
October 21, 2012 10:12 IST