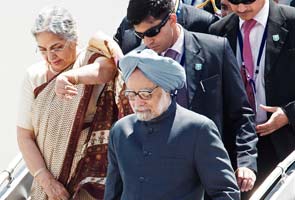 Los Cabos (Mexico): Arriving in Los Cabos for the crucial G-20 summit, Prime Minister Manmohan Singh today said the world economy is in "deep trouble" and hoped that the grouping of developed and developing countries will come up with constructive proposals to pull the world out of this crisis.

Prime Minister Singh arrived in Los Cabos to attend the seventh G-20 Summit after a nearly 13-hour flight from Frankfurt.

"The world is in deep trouble, I hope the G-20 will come up with constructive proposals to get the world out of this crisis," he said in a brief interaction with newsmen at San Jose airport before proceeding to this coastal Mexican town, about 30 km away.

The two-day Summit is meeting against the backdrop of a faltering global economy and a lingering Eurozone crisis which is threatening to affect several countries including India.

Noting that G-20 is a premier group dealing with international economic cooperation, Singh, who has attended all the previous six G-20 summits since the inaugural edition in Washington in 2008, said he is very happy to be in this friendly country of Mexico.

US President Barack Obama last week in a telephone conversation with the Prime Minister said he is eagerly looking forward to meeting Singh at the G-20 summit and work for the successful completion of the parleys and evolve a coordinated response for the grouping to find swift solutions to the Eurozone crisis.


Story first published:
June 18, 2012 07:15 IST