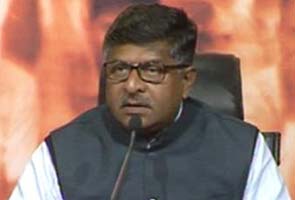 New Delhi:
Ten days before the Budget session of Parliament begins, the opposition has been handed a new controversy to attack the Congress-led UPA government with and the BJP has quickly termed the Italian chopper deal now under a cloud as the "second Bofors scam".
Senior leader Ravi Shankar Prasad addressed the media today demanding that the deal be reviewed.
Highlights of his press conference.
Was the Ambassador of Italy summoned to Defence Ministry and impressed upon the need for information?
Did Mr Antony send some senior officer of the Defence Ministry to get information?
Certainly this arrest of the CEO is the culmination of a process of investigation - why did the govt not know anything?
Let the govt explain why an inquiry was not done earlier... Who was trying to save whom? We want to know.
We will hold the PM, Sonia Gandhi accountable.
We demand that fresh supply be stopped and the deal be reviewed.
Does Govt inaction have to do with company being Italian?
I find it very interesting that the UPA finds a way to get kickbacks on all projects started by the NDA - be it the 2G scam, the Commonwealth Games, and now this.