Washington:
Calling Pranab Mukherjee a strong partner of the American people, US Secretary of State Hillary Clinton congratulated him on becoming India's 13th President.
"I want to congratulate President Mukherjee on his swearing-in as the 13th President of India. President Mukherjee has been a strong partner to America and the American people, working throughout his career to deepen our cooperation on a wide range of issues," Ms Clinton said in a statement yesterday.
The former Finance Minister had worked throughout his career to deepen India-US cooperation on a wide range of issues, Ms Clinton said.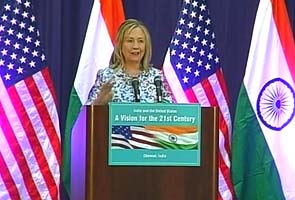 "I look forward to continuing to work with the government and people of India. Together we will build on our shared democratic values, strengthen this relationship even more and create a brighter future for both our people," said Clinton, who maintained a close relationship with Mr Mukherjee.
Mr Mukherjee was sworn in as President yesterday, succeeding Pratibha Patil.
In the last three and half years, Ms Clinton met Mr Mukherjee almost every time the Indian leader visited Washington.
(With inputs from agencies)