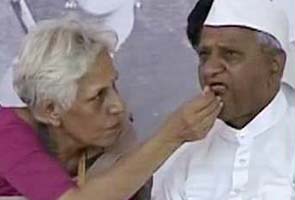 New Delhi:
Doctors examined anti-corruption crusader Anna Hazare at MMRDA Grounds in Mumbai today, where the 74-year-old began his three-day fast this morning. Amid concerns about his health, doctors reported that Anna does not have fever.
Earlier today, Anna's aides Arvind Kejriwal and Kiran Bedi appealed to him to end his fast against the Lokpal Bill that is being debated in parliament today.
"He has fever, let us request him to stop his fast. Anna can continue his dharna," Ms Bedi said.
"Anna is unwell. Will you request Anna to withdraw his fast?" she asked the crowd, which responded with a loud "Yes".
However, Anna , waved his hand to indicate he will not change his mind.
Anna has been recovering from a bout of viral fever.