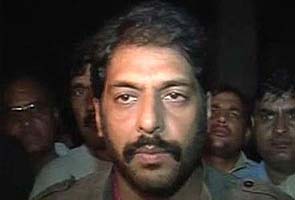 New Delhi:
The father of an accused in air hostess Geetika Sharma suicide case has alleged in a court in New Delhi that the police is pressurising him to lodge a false case against prime accused and former Haryana Minister Gopal Kanda and his family members.
The father of co-accused and Kanda's aide Chanshivroop Singh, who is feared to have fled abroad after promising police to turn approver in the case and securing bail on this pretext, made this allegation of harassment by police in the court of Additional Chief Metropolitan Magistrate D K Jangala.
Chanshivroop's father Harminder Singh alleged the police was forcing him to file a complaint that Kanda's brother and relatives were threatening him.
Singh alleged that Delhi police was pressurising him to file a complaint saying the relatives and brother of Gopal Kanda were threatening him and that it has forced him to sign some papers purportedly complaining about threat to his life from Kanda.
The court told Harminder Singh that he may take legal recourse against the alleged harassment by police.
The police had arrested Chanshivroop Singh, an assistant manager in Kanda's MDLR, allegedly because he was the person who had gone to Dubai where Geetika was working with Emirates Airlines and told its officials that she had secured a job with MDLR on the basis of fake and forged documents.
The prosecution had also alleged that he had sent fake e-mails to Geetika informing her about extradition proceedings against her in Dubai to pressurise her to join back MDLR.
Chanshivroop had been released on bail and had also recorded his statement as a witness before a magisterial court after he expressed his wish to become an approver.
On December 5, the ACMM had tendered "conditional pardon" to Chanshivroop "on the condition that he shall make a full and true disclosure of whole of the circumstances within his knowledge related to the offence and relating to all the accused persons regarding commission of the offence."
Meanwhile, the police told the court that Chanshivroop has fled to the USA.
The court, however, directed it to produce him before it by December 13.
In its charge sheet filed against Kanda and co-accused Aruna Chaddha on October 6, police had said it will file a supplementary charge sheet as it is still ascertaining the role of Chanshivroop, who, it said, had sent the forged e-mail to Geetika about the alleged extradition proceedings against her in Dubai and also kept a tab on her in the gulf country.
Both Kanda and Chaddah have been accused of abetting the suicide of former air hostess Geetika Sharma.
Geetika was found dead on August 5 at her Ashok Vihar residence in North West Delhi. In her August 4 suicide note, the 23-year-old victim had said she was ending her life due to "harassment" by Kanda and Chaddah.