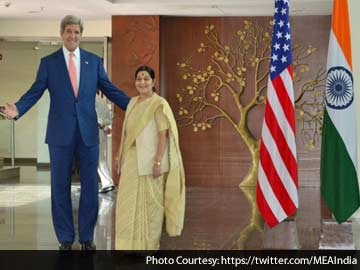 New Delhi:
Foreign Minister Sushma Swaraj said that she complained today to US Secretary of State John Kerry about allegations that the National Security Agency targeted her party for surveillance.
"I told them that Indians were very angry when the report came out. I told them that both countries consider each other as friends and friends don't snoop on each other," Ms Swaraj said.
Mr Kerry, whose visit to India is the first high-level engagement between the US administration and Prime Minister Modi's new government said, in response, "President Obama has undertaken an unprecedented review of intelligence working."
Earlier, speaking exclusively to NDTV, Mr Kerry said that he cannot comment publicly on the controversy; however, he said, "President Obama has taken extraordinary steps in order to be open and transparent, the entire new directive with respect to everything United States does or will engage in."
In July, a classified document made public by The Washington Post showed that the BJP, which swept the national election in May, was among authorised targets for the NSA in 2010 while it was India's main opposition.
The BJP was listed among six foreign political parties -- along with Egypt's Islamist movement the Muslim Brotherhood and the Pakistan People's Party -- on which the NSA was given permission to carry out surveillance in 2010, said the document published by The Washington Post. It was supplied by fugitive US intelligence worker Edward Snowden.
India had earlier complained to the United States on two previous occasions, in July and November 2013, over other revelations -- including the disclosure that its UN mission in New York and its Washington embassy were snooped on.
Mr Modi will travel to the United States in September for the UN General Assembly and his first meeting with President Barack Obama.