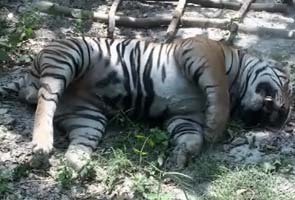 Pilibhit: In what could be a huge setback to the tiger conservation effort in Uttar Pradesh, another tiger was found dead in Pooranpur near Pilibhit division in Uttar Pradesh on Sunday. This is the fourth tiger death in three months in the state. Earlier in May, three tigers were found dead in the jungles of the Tarai region.

Forest officials claim, the tiger, which was reportedly traced couple of times in villages close to the jungle, died of poisoning. Post mortem reports in three earlier cases too indicated that the tigers were poisoned. Forest officials believe poachers are behind such incidents. The District Forest Officer of Pilibhit PK Singh had earlier raised concerns about how a gang of poachers could be behind these killings.

The first tiger was found dead on the May 24 in the Haripur range of the district. The body of the second tiger was spotted barely 24 hours later, just 300 meters from the stream where the body of the first tiger was recovered.

Since the bodies were found more than 18 hours after the death of the tigers, the vets say that autopsies have not been able to confirm whether the cats were poisoned to death. Four dairy owners have been detained in Pilibhit. Officials suspect that they could have planted poisoned baits in the forests to eliminate the tigers, which they see as a threat to their cattle that graze around the periphery of the forest.
Story first published:
August 13, 2012 09:56 IST