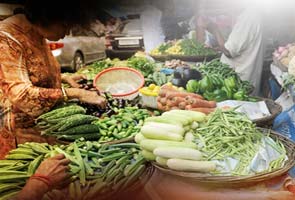 New Delhi:
Vegetable prices have jumped by nearly 16% in the last few days. Food inflation has increased by nearly 2 percent in just the last week, to end in double digits today. (
Read: Food inflation in double digits
)
The government is struggling to explain what every housewife wants to know: when will prices fall? "I can't tell. I'm not a magician," said KV Thomas, Minister of State for Agriculture.
The government continues to blame
food inflation
on onion prices - which touched Rs 80 a kilo this week, and promoted emergency measures like the suspension of all exports along with the removal of import duties for the vegetable. "Inflation numbers are high. One of the causes of inflation going up are onion prices," said Finance Minister Pranab Mukherjee. (
Read: Onion prices stay high despite emergency measures
)
But if the root of the problem lies in the humble onion, there are conflicting views on why.
Agriculture Minister Sharad Pawar said earlier this week that unseasonal and heavy rain damaged standing crops in Gujarat and Maharashtra, which supply India with the bulk of its onions. But experts say the shortage was artificially created by a combination of hoarding and unethical speculation by traders. NAFED or the National Agricultural Cooperative Marketing Federation Of India says that by making onions available at subsidized rates at special outlets in Delhi, for example, prices will start easing. The Minimum Export Price for onions was doubled for those who had already been cleared for exports and are in the midst of their transactions.
The sting for the government lies not just in the criticism from the public, but the fact that its ally, Mamata Banerjee, is a vocal part of its critics on the issue.
"Prices are sky high. Onion is at Rs. 70 per kg. Friends though we are in the UPA, we are not consulted when prices are raised of diesel and petrol," she said, distancing herself from a government under attack. Banerjee's home state of West Bengal votes next year.