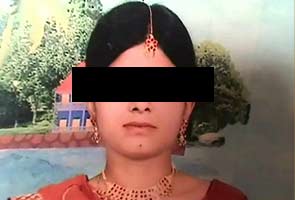 Sonipat/ Pataudi: A class 12 student has been killed by her own father in Sonipat district of Haryana on the outskirts of New Delhi. Her crime: she fell in love and wanted to marry a boy from the same village. When she did not bow down to family pressure, her father Brajesh Singh used her dupatta to strangle her and then surrendered to the police.

Mr Singh, who works as a security guard in a factory, told the police that he tried to persuade his daughter to give up on marrying the boy, and even stopped her from going to school. But when nothing worked, he said, he killed her.

Her mother says the boy her minor daughter wanted to marry was "like an uncle to her", which is why they were against it. "She didn't listen to us. It was wrong. The boy is from the village so he is like an uncle to her," she said.

Several kilometres away from Sonipat, another case of attempted dishonour killing has been reported from Pataudi. Haryana girl Monica had eloped with Veer Prakash about one-and-a-half years ago and got married against the will of her family. Monica's brothers tracked them down yesterday, and shot them. The couple is now recovering in Delhi's Safdarjung hospital. They have gained consciousness but the doctors are yet to remove bullets from their bodies.

"Yesterday, the parents called them up and told them that they accept their relationship and are ready for a court marriage. So they both went home. They were with them till 10 pm. After that in Mao road, Pataudi, the girl's elder brother shot them," Praveen Mehta, DCP South Gurgaon, told reporters, explaining the sequence of events.

The police are now looking for seven members of Monica's family, all of whom are untraceable.

Story first published:
June 09, 2012 08:43 IST