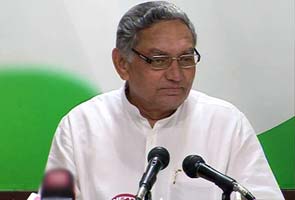 New Delhi:
Congress Spokesperson Janardhan Dwivedi, reacting to NDTV's expose on Nitin Gadkari's letter lobbying for controversial dam, contractors, has slammed the BJP.

Here are the highlights of his press conference:
Reports suggest that Gadkari has written a letter about an irrigation project.
Why has the project cost gone up from 372 crore to 13576 crore?
Gadkari has even given assurance on behalf of the contractors.
He has also written to Finance Minister apart from the Water Resources Minister.
Why such interest? Is it only because of development? Can he show another letter where he has batted for a development project?
No harm in writing letters for development projects. But in a project where there have been questions raised, should they have written?
History of BJP and Sangh shows that they have never done politics on the basis of their own strength.
They have always piggy-backed on other movements like the Socialists, VP Singh.
If they don't allow the Parliament to function, why stay in Parliamentary democracy?