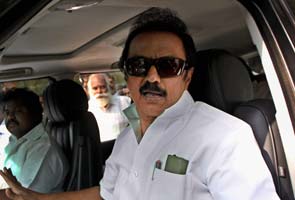 New Delhi:
CBI has recovered 16 more luxury vehicles imported by a Hyderabad-based businessman in alleged violation of customs laws which have been sold to various influential persons even as the SUV registered in the name of DMK leader M K Stalin's son remained untraceable.
The search by the CBI team at the residence of Mr Stalin to look for a Hummer, just couple of days after DMK withdrew support from ruling UPA, had sparked a political storm with the agency launching an internal inquiry to see if there were any procedural lapses in searches.
Claiming it to be a major car import scam, CBI sources said they had recovered 17 vehicles yesterday through searches at 18 places which included a visit to Mr Stalin's home in Chennai "to locate" the SUV Hummer which was allegedly imported in 2007.
They said, 16 more vehicles were recovered today but the CBI has seized documents from the accused DRI officer Muruganandan which indicate that more cars were imported by businessman Alex C Joseph in alleged violation of the laws.
CBI sources said the agency might soon arrest the mastermind of the scam Joseph who they say is on the run.
Prime Minister Manmohan Singh and Finance Minister P Chidambaram had expressed their displeasure over the action while leader of opposition in Rajya Sabha Arun Jaitley said the Prime Minister or the Finance Minister "cannot interfere" in the functioning of CBI and have a "search stopped".
In a statement, the CBI had said a case had been registered under various sections of the Indian Penal Code including criminal conspiracy, forgery, cheating and abuse of official position against Joseph and Muruganandan besides unknown officials.
It pertains to a complaint that about 33 vehicles had been imported in Tamil Nadu and out of these, certain vehicles are believed to have been imported and subsequently sold in violation of import provisions causing a loss of up to Rs 48 crore to the exchequer, the CBI said.
It is alleged that Muruganandan did not take any action even after identification of vehicles at the premises of certain users.
Seven luxury cars were seized from Chancellor of Shri Rama Chandra Medical College R Venkatachalan, two vehicles from MGM group of companies, one from a private person Johnson, five from one G K Shetty Ramanna and two from Raja Shankar, sources said.
They said these cars were imported between 2007 and 2011.
The sources said a case was registered by Chennai branch of CBI and it carried out searches after taking warrants from the court under section 165 of CrPC which gives powers to a police officer to carry out searches deemed necessary for an investigation.