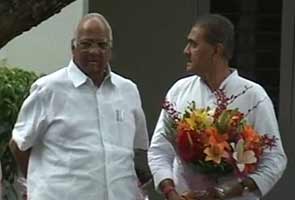 New Delhi/Mumbai: Sharad Pawar will not attend a dinner tonight hosted by the Prime Minister for all ministers. Mr Pawar's RSVP conveys what the Congress is worried about - that he is prone to pulling his party out of the Union government, and will provide external support to the ruling coalition.

Mr Pawar and other senior leaders from his party, the NCP, are currently in a meeting to decide its stand. They have also confirmed they will attend a tea for all MPs - a part of the felicitation ceremony to bid farewell to Pratibha Patil.

Though Mr Pawar had reportedly told the Congress that any changes in Delhi would not disturb their partnership in Maharashtra, the tension in Mumbai appeared escalated today.

The Congress there reportedly said that a coordination meeting will be called soon with the NCP to resolve all problems. Mr Pawar's party was not impressed. "Ministers say there is no coordination in the state government. There was a coordination committee earlier, but meetings don't take place anymore," NCP's Praful Patel said.

Sources on both sides say that the NCP's top leaders, already feeling the heat from allegations of graft levelled by the opposition, are annoyed with chief minister Prithviraj Chavan, who is perceived to be in a sort of clean-up mode.

Among the problem areas is the Maharashtra Sadan building in New Delhi - a huge guest house for the use of MPs and MLAs from the state when they travel to the capital. The 16,000 square metre plot was assigned to a contractor as part of a barter - in return for constructing this guest house at no cost, the builder would get development rights to land owned by the state in Mumbai. During the construction of the guest house, the costs shot up by nearly 150 crores. The government was not paying for this construction, but the benefit of the escalating costs, according to the Opposition, could have been passed on to firms that were used as sub-contractors to design the interiors, for example. On the board of this firm were the family members of Chhagan Bhujbal, the NCP minister who runs the Public Works Department. The growing controversy around this construction provoked President Pratibha Patil to cancel her plans last week to inaugurate Maharashtra Sadan.

Mr Chavan has also irked the NCP by asking for "a white paper" on irrigation. Till 2009, the Irrigation Ministry was led by Mr Pawar's nephew, Ajit Pawar. After that, it was given to the NCP's Sunil Tatkare. The Opposition alleges that in a decade, 70,000 crores has been spent on dams with benefits accruing to just an additional 0.1% land. The chief minister wants a complete statement of accounts for the last decade. The NCP wants Ajit Pawar's term to be exempt from the inquiry.


Story first published:
July 23, 2012 11:43 IST