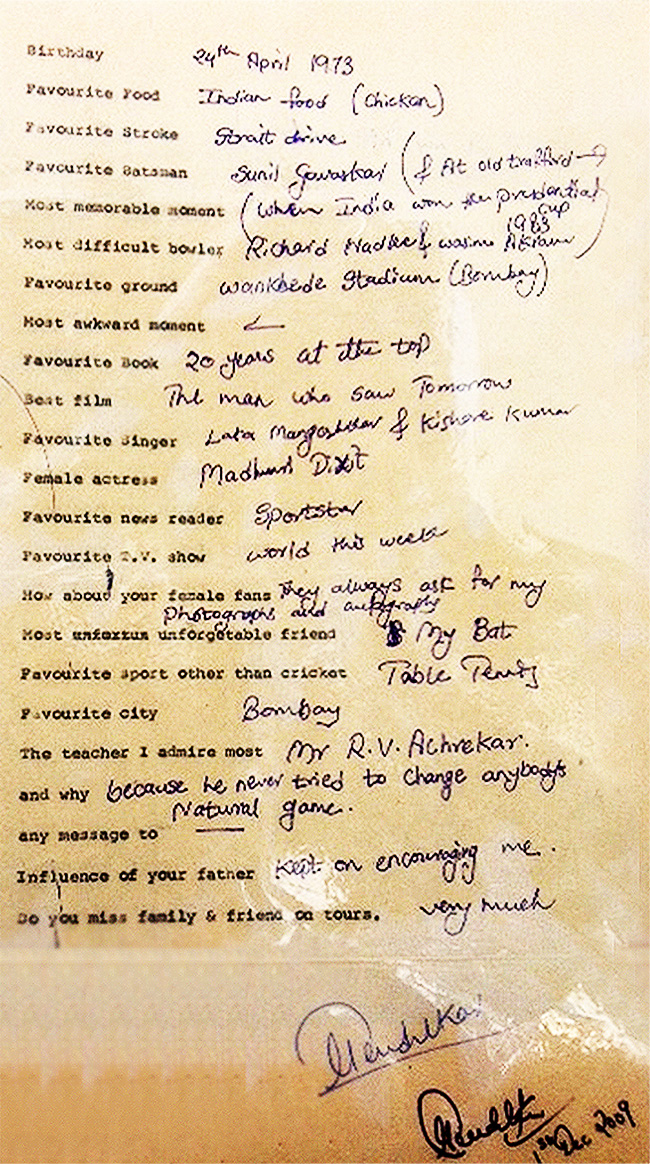 Hyderabad:
In 1990, a 17-year-old Sachin Tendulkar earnestly filled a questionnaire in blue ink, describing his bat as his "best friend" in words slanting up on paper now yellowing.
He also shared that he preferred Indian food, with a special mention for "chicken" in parenthesis, and wrote that his female fans constantly sought his "photographs and autographs."
And yes, his favourite female actor was Madhuri Dixit.
The young Sachin made his Test debut at 16 in November 1989. When he filled this questionnaire, he was already being hailed as the next best thing in cricket. His answers, however, are disarmingly simple and even sweet, something that the man described as the God of cricket never lost even as he touched dizzy heights.
Sachin Tendulkar retires from all forms of cricket after his 200th Test this month. Interestingly, he had listed his favourite book in 1990 as "20 years at the top," Windies great Gary Sobers' autobiography. Sachin spent 24 years at the top.
This questionnaire was filled-in by the master-blaster in his own handwriting, as part of an interview to The New Indian Express sports reporter N. Jagannath Das in 1990.
"Sachin was here for the Moinudullah Gold Cup in September 1990 when I went to meet him and Sanjay Manjrekar at Hotel Karan,'' said Mr Das, who got him and Manjrekar to list out their favourites. The paper, now laminated, is today Mr Das's precious possession.