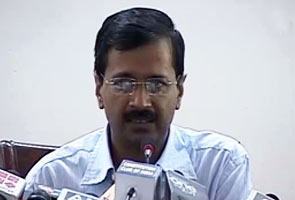 Ralegan Siddhi: Ahead of July 25 protest rally in Delhi, key Team Anna member Arvind Kejriwal met Anna Hazare at his native village in Maharashtra's Ahmed Nagar district on Sunday, sources said.

"Kejriwal apprised Hazare about Team Anna's July 25 Delhi agitation. Hazare has also made some suggestions to him in this regard," Shyam Asawa, local spokesperson of Mr Hazare's anti-corruption movement, said.

Mr Kejriwal first came to Pune to meet his brother and from there went to Ralegan Siddhi, he added.

Team Anna is holding indefinite fast at Jantar Mantar in Delhi from July 25 against the UPA government on the issue of corruption and its alleged failure to enact a strong Lokpal as well as not setting up a Special Investigation Team to probe corruption charges against Prime Minister Manmohan Singh and his 14 Cabinet colleagues.

Delhi Police yesterday granted Team Anna the permission to go ahead with the protest.


Story first published:
July 09, 2012 09:13 IST