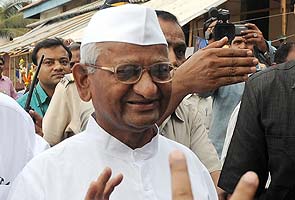 Ahmednagar: Social activist Anna Hazare on Friday celebrated his 75th birthday with hundreds of children at a rehabilitation centre in Ahmednagar, around 40 km from his hometown Ralegan Siddhi.

Mr Hazare's associates said he preferred not to have elaborate celebrations for his birthday as Maharashtra is currently reeling under drought.

Anna spent time with children of Snehalaya, an NGO that runs a rehabilitation centre for HIV-positive patients, his close aide Suresh Pathare told IANS.

He also laid the foundation stone of an English-medium school in Ahmednagar.

The gandhian activist had earlier told reporters that he wanted to celebrate his 75th birthday without any fanfare.

"However, he accepted the invitation from Snehalaya as it is for a social cause," Pathare said.

The NGO also runs rehabilitation projects for prostitutes and their children, orphans and other underprivileged children.

The proposed school will provide free education to underprivileged and differently-abled children.

The NGO also organised an 'Amrut Mahotsav' ceremony in honour of Mr Hazare.

Several other NGOs from the Ahmednagar district also jointly distributed one lakh books about Mr Hazare's life and his message to the youth.

Story first published:
June 15, 2012 17:18 IST