Thiruvananthapuram/Kochi/New Delhi:
Premjit emerged from the Kochi airport at about 3 pm after a journey from Abu Dhabi that had stretched over 21 hours and included a hijack alert that was sounded by the pilot after four passengers allegedly forced their way into the cockpit.
"Passengers were angry as our needs were not considered...Nobody went inside the cockpit," said the exhausted and visibly annoyed passenger. Sources in the Directorate General of Civil Aviation say that's not correct. A First Information Report (FIR) has been filed against six persons, who have been identified, based on a police complaint by the pilot. Commander Rupali Waghmare, in her complaint which was sent to the Kerala Director General of Police (DGP), had alleged that some passengers had barged into the cockpit.
There were 165 people on board Air India flight IX 4522 from Abu Dhabi. At around 5:30 am, the plane was ready to land at Kochi. But after hovering for 10-15 minutes, the pilot was told to divert to Thiruvananthapuram, 30 minutes away, because of fog.
At 6:40 am, the plane touched down on the Trivandrum runway. The pilot, Captain Rupali Waghmare, announced that the flight was expected to take off in half an hour for Kochi, weather permitting.
But then came the news that the pilot and crew's shift had ended, and a replacement crew was being organized.
It was around this time that several agitated and unruly passengers moved towards the cockpit and started banging on the door. Four of them entered the cockpit, which is illegal.
The pilot signalled a hijack alert to airport officials, but soon downgraded it to a distress call.
Irate passengers, like a man who identified himself as Sivan, told NDTV that after a long journey and hours of being stranded on a plane without air conditioning, the travellers were demanding more information. It didn't help that passengers were asked if they would prefer to be driven to Kochi, four hours away.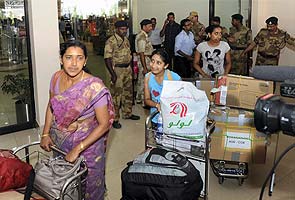 Meanwhile, within the airport, meeting of the Aerodrome Committee was underway - standard procedure when a hijack call is sounded. The committee, which includes safety officials and representatives of the airline, decided that the flight could take off. At 1:55 pm, the plane departed Thiruvananthapuram for Kochi.
At the Kochi airport, six passengers were questioned about the police complaint by the pilot.
The civil aviation regulator, DGCA, has ordered an inquiry to determine who is responsible for the incident. If found guilty, passengers who entered the cockpit could face a two-year imprisonment or a 10 lakh rupee fine or both.