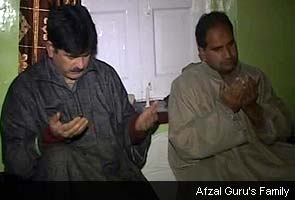 Srinagar:
Two days after he was executed in Delhi, Afzal Guru's family received a letter this morning disclosing that he was to be hanged for his role in the 2001 attack on parliament.
After Saturday's top-secret operation that saw Guru hanged and buried at Tihar Jail in Delhi, the government said that a letter had been sent by speed post to his family in their home town in Sopore in Kashmir. The note allegedly revealed that Guru's mercy petition had been rejected by the President of the country. (
Read letter
)
Human rights activists have criticized the government for a multitude of lapses. The family's lawyers said the letter had not reached the family, and that they were not informed of the execution or given the chance to meet Guru one last time, as required by law.
(Read)
Kashmir has been tense since Guru's execution- large parts of the state remain under curfew, at least 36 people have been injured in clashes with security forces, and a young protestor died in Sringar this morning. Internet and cable television services are suspended in some parts as a security precaution.
Jammu and Kashmir Chief Minister Omar Abdullah has been unequivocal in his criticism of the hanging. His National Conference party is a member of the Prime Minister's ruling coalition.
"Like it or not, the execution has reinforced the point that there is no justice. We will have to deal with how we can change that sort of alienation. As a human being, I cannot reconcile to the fact that Afzal Guru was not allowed to see his family. That is one of the biggest tragedies of this execution," said Mr Abdullah to NDTV.
(Read)
The Post Master General of Jammu and Kashmir, John Samuel, told NDTV today that the letter to Guru's family was sent from Delhi on Friday and reached Srinagar on Saturday; it was delivered to the family this morning, he said.
(Watch)
Guru's hanging, just three months after 26/11 gunman Ajmal Kasab was executed in a similar secret fashion, is being seen as the government's rebuttal to parties like the BJP which accuse it of being soft on terror.