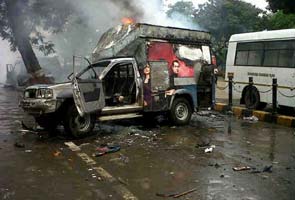 Mumbai:
Two people died at Mumbai's Azad Maidan after a protest over the ethnic violence in Assam turned violent. The police had to fire in the air and lathicharge the crowds after a section of them burnt vehicles, including media vans on Saturday evening.
People started coming into Azad Maidan grounds by 12 noon. Within a few hours there were over 5000 people gathered. Sporting black badges, members and activists of several organisations converged and expressed concern over the ethnic violence in Assam.
However after a few peaceful hours, things got out of hand around 3.30pm. Police are still trying to verify what got the crowd agitated and violent and also how the two protestors were killed.
Roads leading to Azad Maidan were blocked by the police that managed to control the mob after 30 minutes.
The State Reserve Police and riot control police were pressed into action to bring the situation under control.
"The Mumbai crime branch will investigate the matter and probe the reasons for the violence. They have already begun their work, " said Prithviraj Chavan, the Chief Minister of Maharashtra.
Home Minister Sushil Kumar Shinde too condemned the attack and warned warned of strong action against rumour mongers and appealed to the people to maintain peace. Mr Shinde also offered full cooperation to Maharashtra government in dealing with any situation arising out the violence
The protestors had gathered in Azad Maidan to condemn the clashes in Assam over the last month between Bodos and Bengali speaking settlers. Over 70 people have been killed and, nearly four lakh people displaced in the violence.