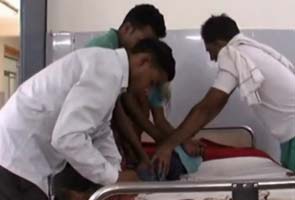 Bulandshahr: A video clip of a sweeper in a green shirt giving a young boy stitches at a Bulandshahr government hospital has shocked many. But apparently, the Health Minister of Uttar Pradesh, Ahmad Hasan, is not among them. The minister merely says too many emergencies at the hospital resulted in attendants doing the job of doctors. For now, an inquiry has been ordered into the incident.

In this most backward area of Uttar Pradesh, it's not the just the minister who seems unfazed. A sweeper giving stitches is clearly not an uncommon occurrence at the Babu Banarsi Das District hospital in Bulandshahr, an eight-hour drive from Lucknow, the state capital. At the same hospital, a ward boy and a sweeper - meant to perform largely janitorial functions - are often seen giving patients tetanus shots. One video clip shows the Chief Medical Superintendent (CMS) of the hospital, Dr Shishir Kumar, standing by and watching as one of these men treat a patient. On tape, Dr Kumar stands by, not seeming to intervene or look around for one of the 23 doctors registered at the hospital.

Mr Hasan, the minister, showed no sign of consternation after viewing the video clip. He only said, "I am told that these two were Operation Theatre attendants. There was an accident, too many patients were brought in and they were helping out. But if this is true then we will probe this and act."

The hospital's Chief Medical Officer SHS Danu too seemed unperturbed as he explained, "Sometimes there is a situation when there is nobody to attend to patients, so they sometimes help with the distribution of medicines."

So where are the doctors? Lakshmiraj, a social worker in the hospital, says doctors are just not to be seen here and sweepers often stitch up patients.

Story first published:
July 10, 2012 08:57 IST