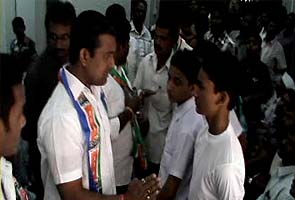 Satara, Maharashtra:
At a school in Western Maharashtra, North Indians trying to get their children admitted to a local school were assaulted by Raj Thackeray's party workers.
Members of Mr Thackeray's Maharashtra Navnirman Sena (MNS) alleged that the parents were forging documents to help their children qualify for the school.
The attack took place this morning outside a hospital in Satara, about 250 kilometres from the state capital of Mumbai. Students as young as three were getting medical check-ups, required by the school. MNS men said some parents, who are from Uttar Pradesh and Bihar, had lied about their children's age on certificates. One parent was slapped.