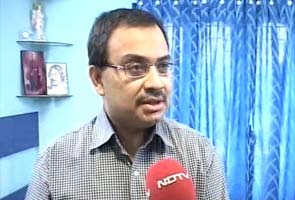 Kolkata:
Trinamool MP Kunal Ghosh has denied that his party chief and West Bengal Chief Minister Mamata Banerjee had any links with the chit fund company Saradha Group that's gone bust. "There no question of any link between that group and the Chief Minister," he said speaking to NDTV.
Mr Ghosh was Group CEO of Saradha's media interests but he insists that he was just a "salaried employee" and "just dealt with the editorial department."
Over the last few days, several of Saradha Group's offices across the state have shut down and many of its cheques have bounced. With a huge default in repayments, the group is virtually on the verge of collapse.The West Bengal government has ordered the arrest of its Chairman and Managing Director Sudipta Sen but he is still on the run. One of the group's directors was however arrested on Saturday.
The group's agents, who have collected crores from the public with promises of huge returns, are fleeing their houses; they say they fear investors will beat them. The agents say they never doubted Saradha's credentials because several Trinamool leaders were associated with it. While Kunal Ghosh was the Group CEO of Saradha's media interests, another MP and actress Satabdi Ray featured in Saradha's promotional literature. Even the Chief Minister was seen at several events hosted by the Saradha Group, including the inaugration of its newspaper called Kalam and a magazine called Paroma.
Speaking about Ms Banerjee's presence at these function, Mr Ghosh said, "Kalam is a respectable paper in the Bengali speaking Muslim community. When that paper started its daily edition, they requested the CM to inaugurate. She had only responded to that invite by media person."
On March 26, Mr Sen put up a closure notice at the office of the English newspaper, Bengal Post. On April 1, several other publications were issued similar notices. As a result, close to a 1,000 journalists are suddenly on the streets in Kolkata without work.