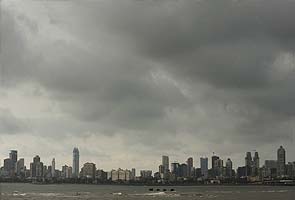 Mumbai/New Delhi: Mumbai witnessed unrelenting rain yesterday; local trains were delayed and flight schedule was hit. But since last night, there has been intermittent rain.

Several low-lying areas are, however, waterlogged and the commuters have to wade through the water. So far, there is no traffic jams on the two main arterial roads of Mumbai - eastern and western express highway. The trains and flights are running on time.

"The biggest problem is waterlogging, and it gets very difficult for people to travel. For example, I am a teacher and I have to take this route everyday to reach school. So I have to walk through the water, there is no way out," said a teacher.

"Every year during monsoon, there is a high tide, so water-logging happens. The municipal corporation has no fault in that either, these are low-lying areas, hence there is always water-logging," said a Mumbai resident.

Weathermen say occasional spells of rain is expected in the next 24 hours.

Meanwhile, the monsoon has advanced with heavy rains lashing Lucknow and other parts of Uttar Pradesh today, bringing respite from the hot and muggy weather. The downpour is likely to continue for the next few days, a Met department official said.

"Now that the monsoon has come, it's a great relief," said a Lucknow resident.

After drenching Madhya Pradesh and Maharashtra, the monsoon rising from the Bay of Bengal has advanced to the northern states. Minister of State for Earth Sciences Ashwini Kumar said yesterday that northwest India, including Delhi, is expected to get rains over the next two days.

The country as a whole has received 137.8 mm rainfall as against the normal of 197.7 mm since the onset of monsoon till Wednesday.

The maximum temperature would fall by two to four degrees Celsius over northwest, east and Central India in the next three days.

This year has seen a delayed onset of monsoon rains over Kerala and they have been making a sluggish progress, drawing concerns from the farming community.

The weather office, however, has only marginally downgraded the seasonal forecast keeping it within the normal range.


Story first published:
July 05, 2012 11:07 IST