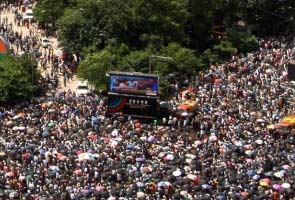 Traffic in Kolkata was gridlocked because of a massive rally by the Trinamool Congress in the heart of the metropolis to observe its annual martyrs' day today.

Adding to the snarls were long processions that wended their way to the venue near Dharmatolla after 11.00 am braving occasional rains.

Public and private transport was thin compared to weekdays, inconveniencing commuters.

The police said traffic normalised from 4:00 pm.


Story first published:
July 21, 2012 18:13 IST