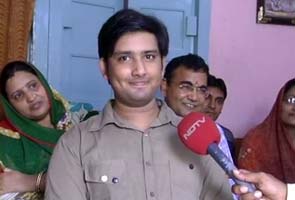 Jodhpur: For 22-year-old Aditya Maheshwari, it's a rare honour - he is among the only two Indians chosen by internet giant Google for its "Mentor Summit" to be held at its headquarters in California in October this year.

Beating other computer geeks and technology aficionados, Mr Maheshwari, an MSc student of North Gujarat's Patan university, mentored three kids on a project called "tux4kids", which simply put, means technology for kids. At the summit, he will be presenting a paper titled "How to attract youth for contribution in development cycle of open source world", a concept which he says will explore ways to encourage the youth of the country to think independently and beyond the "job-oriented mindsets" that most youngsters have.

"There will be three components of this summit, which are how to improve the programme, how Google can do more for open source and how mentors and representatives of development communities can help one another," said Mr Maheshwari, who has been selected as a student mentor of 'Google Summer of Code 2012'. Significantly, he is also the youngest among all the participants at the prestigious summit.

The 22-year-old also says that children inclined towards technology in India can also invent their own versions of Facebook and Twitter. Currently, most of the innovations in the field of Information Technology (IT) come from the West while Indians are just involved in the logic encoding.

Born to a father who is a junior accountant with the Rajasthan Roadways, Mr Maheshwari, the eldest of three siblings, did most of his schooling in a small town called Phalodi, situated about a 100 kilometres from Jodhpur. After graduation, he enrolled in the MSc(Computers) course in North Gujarat University in the small town of Patan in Gujarat.

But despite the humble background, this young boy has proved that one does not necessarily need to a studying in the country's top universities to make it big. As he himself describes it, even a geek from a small town can make it to GOOGLE.

Story first published:
August 13, 2012 11:43 IST