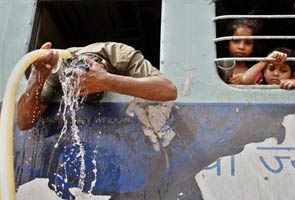 New Delhi:
Delhi today recorded its hottest day in the month of May in the last five years with temperatures touching 45.7 degrees. Delhi's temperature was highest for the month of May since 2003. The city recorded a minimum temperature of 31.4 degrees. (
Share your pictures and videos
)
Sizzling heat maintained its grip over Punjab and Haryana region, where Amritsar witnessed its hottest day in history with a maximum of 48 degrees. The mercury remained largely above normal in most parts of the region. Temperature retained an upward trend in Rajasthan also, where Sriganganagar continued to be the hottest place with a maximum of 48.6 degrees Celsius, followed by Churu, Bikaner, Jaisalmer and Barmer, which recorded highs of 47.3, 46.5, 45.9 and 44.4 degrees respectively, Met department said.
Capital Jaipur recorded a maximum of 43.9 degrees, while it was 42.2 degrees Celsius in Ajmer.
Summer woes multiplied for people in Uttar Pradesh owing to unscheduled power cuts, and protests were reported against long electricity outages from various places.
Banda continued to be the hottest place with a maximum of 46.8 degrees. Mercury hovered above normal in most parts of the state, including the Meerut, Jhansi, Agra, Allahabad, Kanpur, Bareilly and Moradabad divisions.
People in Gujarat, however, may get some respite from scorching heat in days to come as according to the Met department, the mercury is likely to drop by at least two notches due to westerly winds.