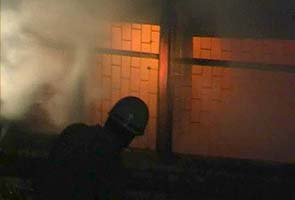 New Delhi:
A large fire in a congested market in Delhi is somewhat under control, said officials, but they are worried that the building the fire began in could collapse on account of it being an old structure.
Neighbourhoods are being evacuated around the Bhagirath Palace, an electrical market in Delhi's Chandni Chowk area, where a huge fire began at 5:20 pm today. 22 fire engines were rushed to the spot. No casualties were reported in the fire.
(See pics of the fire)
Chief Fire Officer AK Sharma told NDTV that fire fighters had to douse the fire from outside as there were chances of the four-storey building collapsing.
S Pillai, Deputy Commissioner of Police, told NDTV that a godown containing LED lights caught fire which spread to the rest of the market.
The cause of the fire has not been ascertained yet. Press Trust of India reports a short circuit is suspected to be responsible.
According to the Press Trust of India, around 40 to 50 shops were burnt in the fire.