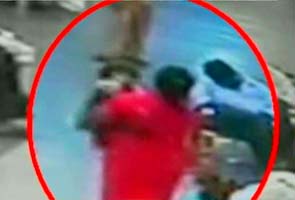 Mumbai:
The Government Railway Police (GRP) has released CCTV footage to help nab the kidnapper of a 10-month-old baby, Sagar Raju Mahat, who was kidnapped from Mumbai's Chhatrapati Shivaji Terminus (CST) station on October 3. The footage shows a woman, clad in a red saree kidnapping the child.
Sagar and his grandmother were travelling to Nepal. They were waiting at the CST station to board a train to Uttar Pradesh. The woman kidnapped the child when his grandmother fell asleep.
The police say the woman, accused of kidnapping Sagar, often used to loiter around the station. They suspect she could be a part of a larger gang that is a part of the begging syndicate.
A closer look at the footage revealed the woman, clad in red sari, was seen sitting next to the child for a while. She played with him for some time while Sagar's grandmother was seen sleeping next to him. The camera clearly captured the lady picking up the child after few minutes and moving towards the exit of the station. At the end of the clip Sagar's grandmother was seen waking up and discovering that her grandson is missing. She then started to search for him frantically.
Surendra Deshmukh, Senior Police Inspector of the CST police station said, "We hope the maximum number of people see this footage through the media and help us in apprehending the culprit."
This is second case of a child being kidnapped from CST station in the last six months. In July this year a three-year-old girl Sangita's kidnapping was caught on CCTV camera at the same station. She was brought back from Haridwar by a team from the GRP after alert policemen identified the kidnapper by his gait. The CCTV footage had then showed how the accused got off a train, wandered around the waiting room of the station, spotted a family with a sleeping baby, sat beside her and then disappeared with the child; all this in less than five minutes.
The police are hoping that just like how Sangita was rescued after the kidnapper's images were flashed across television screens, Sagar will be rescued too and reunited with his family.