New Delhi:
For the second day in a row, Delhi has been whipped by heavy rain in the evening, pushing commuters into a worst-case rush hour.
The arterial Ring Road and Outer Ring Road, which encircle the national capital, saw flooding at several places, resulting in traffic moving at snail's pace. The situation was also bad on roads connecting Delhi to its satellite towns of Noida, Gurgaon and Faridabad. (
Watch
)
In Delhi, the maximum temperature was recorded at 31.8 degrees Celsius and the minimum at 25.3 degrees Celsius. A total of 43.1 mm of rainfall was recorded in the city during the day and the humidity level was 76-98 per cent.
Ram Babu, who was caught unaware by the rains on the DND flyover that connects Delhi and Noida, said the rains were so heavy that visibility went down significantly.
"The rain was so heavy it was difficult to drive. It was like buckets being poured," said Babu.
"There is a traffic jam on all major roads," a Delhi traffic official said.
Another commuter, who was stuck on his way to Indira Gandhi International Airport near Dhaula Kuan, feared missing his flight because of the rains.
"I think I will miss my flight if the traffic remains like this. I have been stuck here for at least half an hour," said Rajiv Sabharwal.
A torrential downpour on Monday too had caused heavy traffic snarls and flooding on roads bringing the national capital to a grinding halt.
Earlier on Tuesday, Chief Minister Sheila Dikshit said she is sorry for the inconvenience caused to the people during water-logging on Monday. "We are sorry for yesterday's water-logging... but we can't pray God not to give us rain. Suddenly, there is too much rain this month," she said.
The Delhi High Court on Tuesday directed the Delhi government to set up a committee to find a short term and a long term solutions for the problem.
The court said the committee should have representatives from all state bodies, that is, the Delhi government, Municipal Corporation of Delhi (MCD), New Delhi Municipal Corporation (NDMC), Flood and Irrigation Department, the Railways, and the Delhi Development Authority (DDA).
South Delhi Mayor Sarita Choudhary, meanwhile, blamed non-cooperation from other civic agencies for the flooding of streets.
"We are doing all we can, but roads more than 60 feet breadth have been taken away from us, what can we do," Choudhary said.
"MCD is doing its work but there is no coordination," she said blaming other agencies like the Central Public Works Department (CPWD) and the New Delhi Municipal Council (NDMC).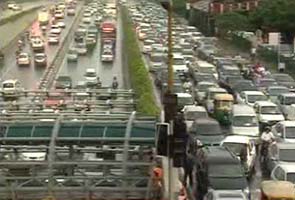 North Delhi Mayor Meera Aggarwal, meanwhile, said that "due to a few hours of heavy downpour, streets might get flooded, but that is not due to storm water drains. There are various other reasons like halting of vehicles and non-functioning of traffic signals".
Spokesperson for North and East Delhi Municipal Corporation, Yogendra Singh Mann had said after Monday's heavy downpour that overhauling of the city's drainage system was needed to overcome the frequent flooding following heavy rains.
Similar weather conditions are expected Wednesday, with the IMD forecasting "generally cloudy sky and one or two spells of rain".
The seasonal average of rain in monsoon in Delhi this year is 415.2 mm, 19 percent less than the average of 511.2 mm.
However, in the month of August, Delhi has so far received 304.9 mm of rain, which is 30 percent more than the average 235.1 mm for this period.
(With agency inputs)