Vansada/Valsad:
Hectic campaigning is on in Gujarat with less than a week to go before the polls. Top leaders of the Congress and the BJP are on the campaign trail wooing voters.
Congress president Sonia Gandhi is campaigning in the Patan district in north Gujarat today.
Meanwhile, Sunday witnessed a bitter war of words between Prime Minister Manmohan Singh and the Gujarat Chief Minister Narendra Modi. While campaigning in the state, the Prime Minister said that minorities in the state were not feeling safe and the time had come for the voters to "liberate" Gujarat from divisive politics.
"Unlike the Opposition we do not play politics of dividing the people. Such type of politics is bad in itself and for a longer period of time cannot be beneficial for a political party," Dr Singh said while addressing his first poll rally in Gujarat.
"The time has come to liberate Gujarat from this type of politics and to not let those people come back to power, who have been trying to get votes by dividing our society and country," Dr Singh said without naming Chief Minister Narendra Modi. The rally was held in the tribal town of Vansada in Navsari district.
Rebutting the Prime Minister's charge that minorities were feeling "insecure" in Gujarat, Chief Minister Narendra Modi accused him of playing votebank politics in the name of minority community.
"The Prime Minister, who visited Gujarat today, is playing votebank politics in the name of minority and majority (communities). It is sad that Prime Minister of the country cannot rise above votebank politics," Mr Modi said at a poll rally in Valsad town on Sunday.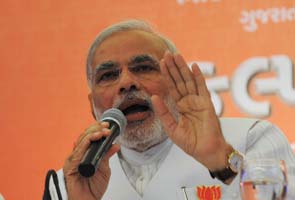 "The Prime Minister is saying that minorities feel insecure in Gujarat. With a sad heart, I have to explain to him that Gujarat does not distinguish between minority and majority and the state government is working for the upliftment of six crore people of the state," he said.
"You (PM) get elected in the Rajya Sabha from Assam. The entire country knows about the massacre that went on in your home state six months back. Districts after districts were engulfed in communal violence," he added.
However, in the last ten years there had been no communal violence in Gujarat, he claimed.
Congress leader and Minister for Information and Broadcasting, Manish Tewari today backed the PM's comments, saying Mr Modi could not read them in the right context.
"Gujarat chief minister probably doesn't even know how to read the PM's speech. If he would have taken it in the right context, he would have understood that he talk about all of Gujarat
PM has said he Congress comes to power, we will have an environment in the state that will work for progress for all sections of the society. PM articulated a viewpoint, equal retribution is needed amongst classes," Mr Tewari said.
The Prime Minister had said, "We have been getting regular complaints that minorities and few other segments of society are feeling insecure in the state. Even a few state government officers have filed such complaints, which is very unfortunate for our country.
"It is a matter of great regret that such type of environment has been created in the land of Mahatma Gandhi," he added.
The Prime Minister also sought to pick holes in development claims of the Modi government, saying it has failed to take growth to the needy sections of society.
(With inputs from PTI)