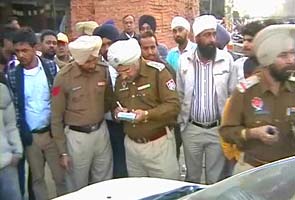 Amritsar:
A policeman was on Wednesday murdered in full public view after an altercation with some men, allegedly including an Akali Dal activist, who were teasing his daughter.
Assistant sub-inspector Ravinderpal Singh was shot dead from point blank range in Chehertha locality in Amritsar following an argument with the assailants, who later managed to escape from the spot in a car, Police Commissioner Ram Singh said.
The key accused has been identified as Shiromani Akali Dal district urban Secretary Ranbir Singh Rana, Singh said, adding that a police team has been dispatched to arrest the accused.
Ravinderpal was rushed to the hospital with heavy bleeding where he was declared brought dead, he said.
He had reached the spot after being informed by his daughter who is a bank employee and who had earlier already complained that she was being followed and teased by these men, he said.
According to Singh, she had told her father that the group of men would regularly intercept her while on her way to office and pass lewd comments.